CollaboLearn not only supports children's social development but also a professional development process for educators. We have good experience in letting the professional learning environment reflect the children's playful learning environment, and therefore it makes sense to transform team meetings into a reflective community where there is room for dialogue and discussion about playful learning in our own practice. For this, we have developed three process boards that can scaffold the dialogue and reflection and give your team time to try out the material together.
The Process Boards

The process boards have been developed to facilitate dialogue and reflection on how you can use the CollaboLearn material in your practice. The purpose of the process boards is to scaffold your team in getting a playful learning mindset in your practice. The first board contains reflection on CollaboLearn's learning approach and process into your practice. The second board dives a little more into how playful learning can look like in your practice with your pupils, and the third board gives you the opportunity to try out play activities and reflection routines, so that you gain experience in how playful learning can look and feel.
Context
The process boards can be used at preparation meetings, team meetings, workshops, professional discussions, or other joint meetings where reflection on your practice is central. It is recommended to sit in groups of 3-4 people (preferably with the same group of pupils, so that the group has a common starting point). Each group has a print-out of the process board, so that everyone has the opportunity to participate in the dialogue and the testing of activities. You can then follow up in plenary.
Time
You can use the boards as a process that you return to over several meetings, or that you go through at once to a smaller or larger extent. You can follow the recommended times on the boards which in total take approx. 2.5 hours (without breaks) or adjust the times to suit your agenda. It is recommended to appoint a facilitator who manages the time and facilitates the process on the process boards to ensure progress.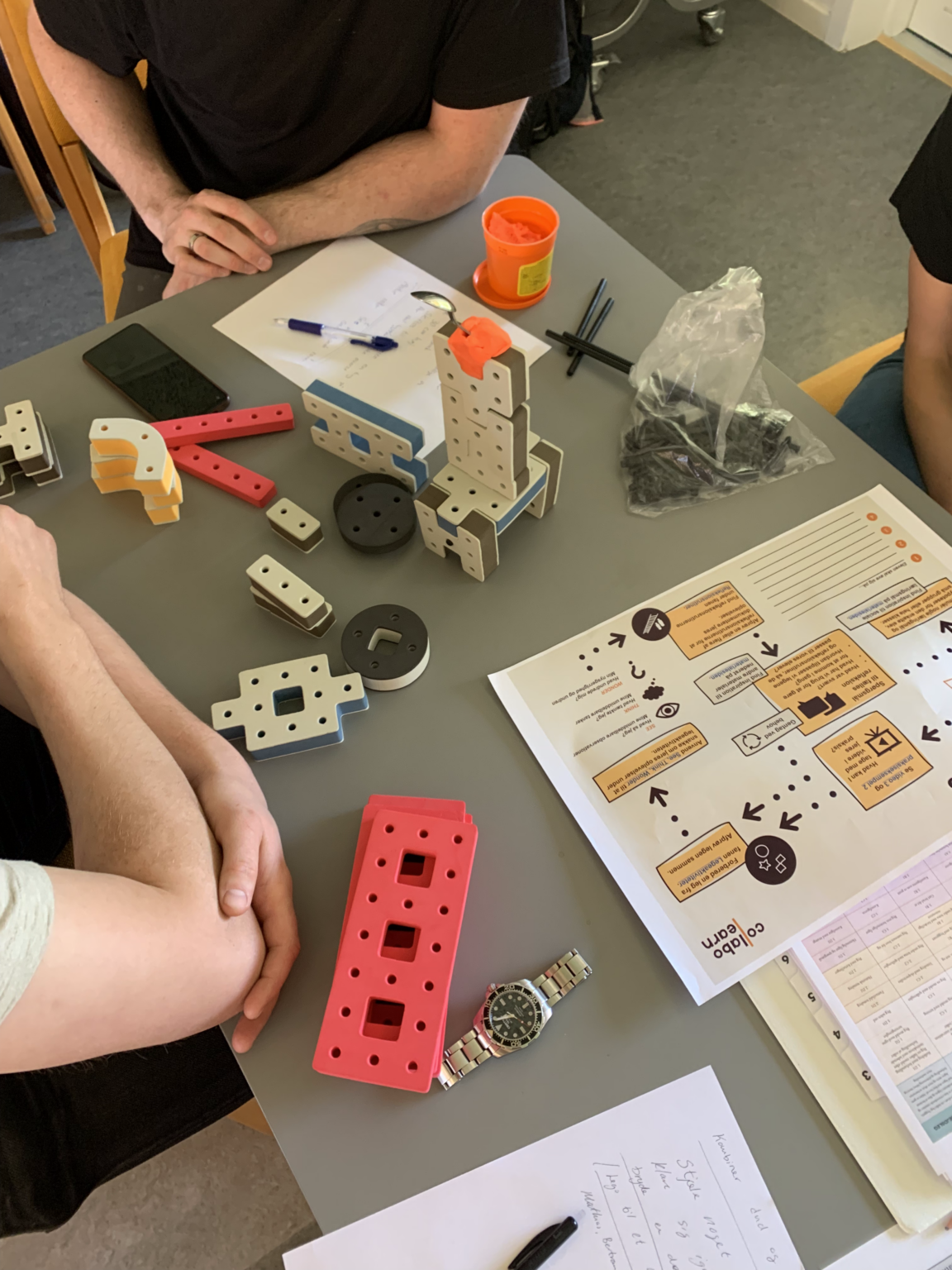 Have the process boards ready. The boards are printed so that each group has a set. This makes it possible for you to write and draw on them as you see fit. You can also have the plates digitally on a computer, as they contain links to the website where you can read more and find play activities and reflection routines to try.
Have a computer ready. Several times, the boards refer to the website where you can find additional information, so make sure to have a computer available in each group that everyone in the group can follow.
Have different materials ready. In the process, you try out one or more play activities and reflection routines of your own choosing. Therefore, have a large selection of different materials ready so that you can test, explore, and experiment with play activities and reflection routines, e.g. LEGO, wooden blocks, straws, tape, cardboard, balloons, toilet paper rolls etc.
The process boards are designed as a game board that takes you through the CollaboLearn material. You follow the process on the boards and make space for dialogue, reflection, and testing. Together, this should give you an insight into how you can use the CollaboLearn material as inspiration for playful learning in your practice.

The process boards continuously link to the website which you can use to be inspired to reflect on how you create a playful learning environment in your practice and perhaps even at your school.
Repetition is good. You can always return to the process boards and repeat with new focal points, for instance based on your new experiences with play activities and reflection routines.

You can also start designing a learning session where you plan, test, and reflect on the playful learning from your professional perspective.

Remember that this is a learning process for you, just as it is for your pupils, so test, reflect, and repeat the process and learn about playful learning and your new role as facilitator for each session. In this way, you develop your professional competences.